Twin Chamber Baler Installed at Neville & More
Neville and More is a leading packaging supplier with more than 60 years of experience
Previous bin collections were more expensive
Both cardboard & plastic waste diverted from landfill
Neville & More are a manufacturer of packaging products mainly within the pharmace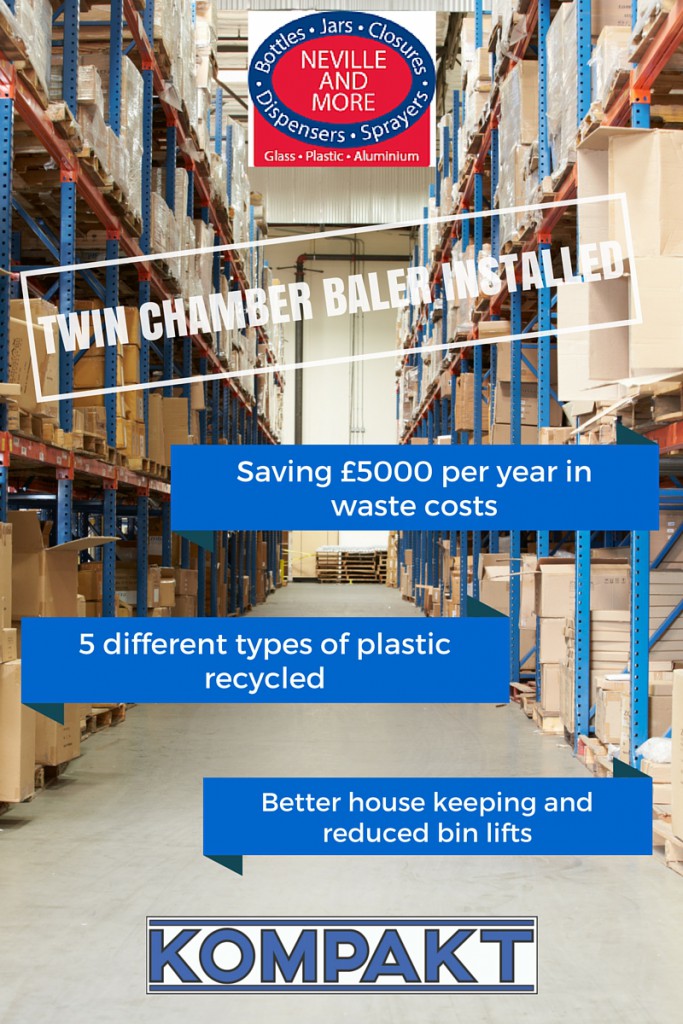 utical sector. Producing a wide variety of jars and bottles through the use of plastic and glass.
Neville & More approached KOMPAKT to help them look at ways in which they could address their varied and expensive waste disposal. KOMPAKT identified various types of waste that could be recycled including; cardboard, polythene film, plastic straws, jar lids, plastic pallets as well as faulty bottles.
Following a waste audit conducted during a site visit, KOMPAKT ascertained that the two regular streams were cardboard and plastic film (LDPE). The other plastics were produced less frequently however were being put in general waste along with a lot of the more regular packaging waste.
The fact that most of this waste was sporadically produced, a small twin chamber baler was installed in order to bale the regular cardboard and plastic film streams, rather than a dual chamber baler or multiple balers. This kept the cost of the baler to a minimum for the customer who were able to bale the other plastic streams as and when they were produced.
Through KOMPAKT's partnership with Plastic Expert Ltd we were able distinguish the types of plastic produced by Neville & More that were a) recyclable and b) held scrap value. Using one of our local partners, KOMPAKT assisted in the collection and recycling of the various waste streams in one single collection.
SUMMARY
The outcome of this project from Neville & 's point of view was not only their ability to save large amounts of money in a short period of time but to showcase to their supply chain how they approached environmental issues.