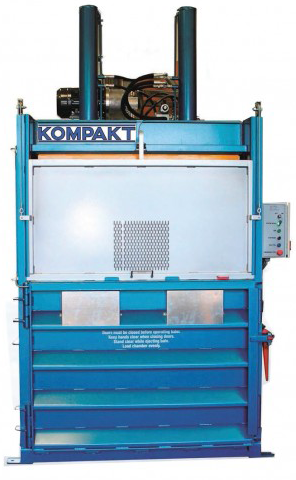 Kompakt- Mill Size Balers – PE 550
The powerful PE500 Mill Size Balers are designed to handle with ease large volumes of cardboard and plastic waste.
These cardboard balers are perfect for recycling centres and skip companies, as well as warehouses, factories and large manufacturing sites.
This remarkable energy-efficient machine can produce incomparably compact bales of 500-600 kgs!
Save Money
Mill size balers, like the PE 550, are the perfect choice when you have exceptionally large quantities of waste material. Especially when you have the option of renting or leasing the balers saving you upfront payment as well.
They save you a chunk of cash by producing perfectly sized bales that can easily be transported and sold directly to paper mills and plastic recycling factories.
Save Time
Supercharge productivity for your workforce by drastically reducing the time spent managing waste materials.
Plus, the perfectly compact bales take minimum storage freeing up site space and increases efficiency as well.
Save the Planet
Reduced transportation, better compacting and responsible recycling gives your business the eco-friendly edge it needs in a cost-effective way.