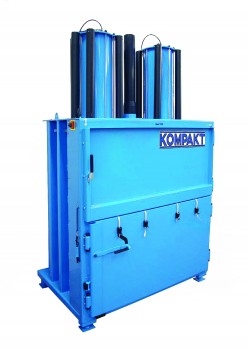 Kompakt Plastic/Cardboard Balers- KM 509 Baler
Does your business need cardboard balers that are compact enough for a small space but powerful enough to handle large volumes of cardboard and/or plastic?
Meet the KM 509 baler, the complete baling solution for businesses with big recycling needs.
Save Money
The KM 509 helps your business cut costs that come with renting or buying a machine larger than what you really need.
Not only that by baling cardboard and/or plastic waste, you're decreasing the number of bin collections too.
The KM 509 may look small, but it can produce a bale of up to 400 kg!
Save Time
The KM 509 comes with an extra wide door opening so your employees don't have to waste time trying to stuff large cardboard boxes and other bulky material.
Bales from the KM 509 can be ejected automatically and loaded straight onto the standard pallet, saving time, energy and also, space!
The KM 509 comes with two powerful cylinders that apply constant pressure,
creating dense and heavy bales, fast and furious.
Save the Planet
The KM 509 is fully compliant with the EN16500, making it super safe and helps your business create a positive impact on the environment.
Your business can cut down on collection frequency saving carbon emissions caused by truck movements.
Powerful Features:
☑ Handles large volumes quickly and efficiently
☑ Automated bale-out mechanism
☑ Extra-wide pressing chamber
☑ New EN16500 safety features
☑ Faster pressing cycle & bale-out indicator
☑ Improved fail-safes and locking mechanisms