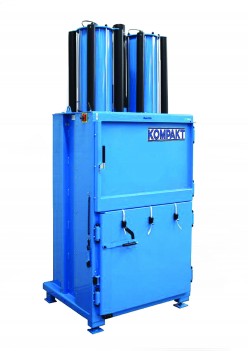 Kompakt Plastic/Cardboard Balers- KM 306 Baler
Are you looking for plastic and/or cardboard balers for sale? But want a machine that would be able to handle medium-to-large volumes of waste with ease?
You're in the right place. You need the KM 306 Baler that is a low-noise, low-energy and high-powered machine, perfect for your waste management needs.
Save Money
The KM 306 helps your business save money, almost instantly since you can cut back on collection frequencies.
Not only that you save the money you spend on employees struggling with waste management, because now you have a powerful baler that comes with an automated bale out mechanism.
Save Time
The KM 306 range of cardboard balers are perfect if you need a machine that'll work fast, almost silently and free up the time your team spends in managing all the large cardboard and plastic boxes.
The KM 306 cardboard baler is equipped with two powerful cylinders creating denser and heavier bales that fit neatly onto a standard size pallet. You only pay for the waste you actually generate, not empty air!
Has staff been unproductive because they spend so much time struggling with the waste cardboard and/or plastic? Well, with the KM 306, you can solve that problem and get the work that you pay for!
Save the Planet
The KM 306 cardboard balers range is fully compliant with the EN 16500 standards and has a deep and wide pressing chamber making it energy efficient too.
Since you reduce the space you use in the collection bins, the frequency of collections also reduces, helping you cut back on carbon emissions caused by the trucks.
Powerful Features:
☑ Bale plastic, cardboard and other material
☑ Automated bale-out mechanism
☑ Low on noise, low on energy
☑ New EN16500 safety features
☑ Deep and wide pressing chamber
☑ Faster pressing cycle & bale-out indicator