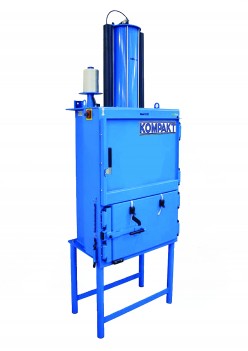 Kompakt Plastic/Cardboard Balers- KM 102 Baler
Cardboard balers that work well for plastic and mixed waste are a must for businesses looking to cut costs, improve productivity and have a positive environmental impact.
But what if you don't have a lot of room for a baler? You get the Kompakt KM 102, that has the size of a filing cabinet. That's right. You have to see it to believe it. Set up a call with us today!
Save Money
The KM 102 cardboard balers can be used for plastic and mixed waste making them a wise investment. You don't need different machines blocking space and hampering efficiency. One does the trick.
With a compact filing cabinet-style and size, this cardboard baler will take up very little room, allowing you to use the space for other revenue-generating activities.
Don't need balers for sale? Rent them out for a cost-effective solution instantly.
Since you'll be packing dense bales, you can cut down on bin collections and save money too!
Save Time
Increase staff efficiency with the KM 102 baler that'll help your team pack away bulky, unmanageable cardboard, plastic and mixed waste with ease and speed.
Save the Planet
Reduce your carbon footprint by cutting down on collection frequencies.
Plus enjoy the eco-friendly benefits of recycling your waste material in an efficient and effective way.
Powerful Features:
☑ Bale plastic, cardboard and other material
☑ Ergonomic, easy, clean and safe
☑ Low on noise, low on energy
☑ New EN16500 safety features
☑ Faster pressing cycle & bale-out indicator
☑ Improved fail-safes and locking mechanisms